Epson XP-610 Ink Cartridges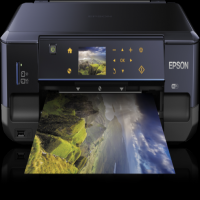 Epson XP-610 Ink Cartridges
Get Low Price Compatible Inkjet and Toner Cartridges for Epson XP-610
Stationery
Platinum A5 Greeting Cards + Envelopes (10 Sets) Create your own cust...

Exc. VAT:

€6.99

Inc. VAT:

€6.99

Unbranded A4 Paper 75gsm. Value general purpose paper, perfect for all...

Exc. VAT:

€5.99

Inc. VAT:

€5.99

Unbranded A4 Paper 75gsm. Value general purpose paper, perfect for all...

Exc. VAT:

€22.95

Inc. VAT:

€22.95
Epson XP-610 Printer Review & Troubleshoot:
How can I temporarily print with black ink when the colour Epson XP-610 Ink Cartridges are expended?
When colour ink is expended and black ink still remains, you can continue printing for a short time from your computer using black ink. However, you should replace the expended Epson XP-610 Ink Cartridges as soon as possible for future printing. Check the following steps for Windows to print temporarily with black ink.
Note: You must enable the Epson Status Monitor to use this feature.
Click on the cancel button or cancel print to exit your current print job
Load a plain paper or an envelope in your product according to the type of media you want to print
To access the print media settings in your print application, click on the main tab
You can select either plain paper, bright white paper or envelope as your paper type setting for printing
Select the black or grayscale checkbox and then press OK button
To print your document, Epson Status Monitor will display a print message
Click on the print in the black option to print your document
Why is cleaning of the printhead required?
If the print quality gets declined that is you're observing blurred or faint text and the nozzle check pattern indicates clogged nozzles, it is time to clean the printheads. Follow your user manual for step-by-step instructions to clean the printheads.
Note: As print head cleaning uses some ink from the Epson XP-610 Ink Cartridges so you cannot clean the printhead if an ink cartridge is expended or is low. To clean the printheads you must replace the cartridges first.
Check that no warning or error messages are indicated in the control panel setting
Right-click on the product icon and then select the Head Cleaning process. If the product icon does not appear on the taskbar, refer to the online manual for adding the icon
Follow the on-screen instructions and perform the task accordingly.