Epson Stylus SX110 Ink Cartridges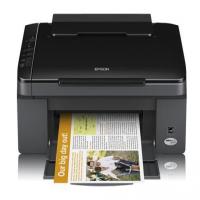 Epson Stylus SX110 Ink Cartridges
Stationery
Platinum A5 Greeting Cards + Envelopes (10 Sets) Create your own cust...

Exc. VAT:

€6.99

Inc. VAT:

€6.99

Unbranded A4 Paper 75gsm. Value general purpose paper, perfect for all...

Exc. VAT:

€5.99

Inc. VAT:

€5.99

Unbranded A4 Paper 75gsm. Value general purpose paper, perfect for all...

Exc. VAT:

€22.95

Inc. VAT:

€22.95
Epson Stylus SX110 Printer Review & Troubleshoot:
The affordable Epson SX110 is an all-in-one printer that offers printing, scanning and copying functionalities. It is ideal for small offices and home offices.
The printer comes in a sleek black colour. On the top, it has a flatbed scanner. At the side, the control panel is located with function buttons. With Epson SX110 Ink Cartridges, the print speed can reach up to 30 ppm for black and white and 15 ppm for coloured. The printer has a scan resolution of 600 x 1200 dpi and the photos as large as 10 x 15 can be finished in 89 seconds. The maximum paper handling capacity of the printer is up to 100 sheets.
The printer delivers good quality prints with Epson SX110 Ink Cartridges. Print speed for monochrome prints is impressive. The maximum print resolution of the printer can go as high as 5760 x 1440 dpi. The printer is capable of delivering good quality photos. Unfortunately, this multifunctional printer does not offer fax.
Advantages:
The printer is sleek.
This colour inkjet printer delivers good quality output, from prints to scans and copies.
The reliable printer is easy to use.
It offers support for Windows and Macintosh.
This all-in-one machine is affordable and meets Energy Star guidelines.
Disadvantages:
The printer lacks faxing capabilities.
It doesn't offer an automatic document feeder.
It does not come with the required cables. One need to buy them separately.
Cartridge Requirements:
The compatible Epson SX110 Ink Cartridges are:
Epson T0711 Black ink cartridge
Epson T0712 Cyan ink cartridge
Epson T0713 Magenta ink cartridge
Epson T0714 Yellow ink cartridge
Conclusion:
The Epson SX110 is a one of the cost-efficient, low priced Epson printer. It has a sleek design. It is a reliable machine that offers good quality prints and scans. As the printer is capable of scanning and copying functionalities, this makes it a suitable choice for the common home user and small office environment.
Most Common FAQs for Epson Stylus SX110:
Q. I have run out of ink for my SX110. How do I replace my old cartridges with new Epson SX110 ink cartridges?
A. Clear and stepwise instructions are given in the user manual that comes with your printer. If you no longer have the user manual with you, you can download it from here.
Q. Do you provide paper for the Epson Stylus SX110?
A. Yes, we supply compatible paper for different printers. The Epson SX110 is only compatible with A4 sized paper which can be found on our website.
Q. How many pages can the Epson SX110 print in a minute?
A. The print speed of the Epson SX110 can reach up to 30 ppm with black ink cartridges and 15 ppm with coloured ink cartridges.
Q. What is the difference between original Epson SX110 ink cartridges and compatible Epson SX110 ink cartridges?
A. The only difference between the two is that Original ink cartridges are produced by the same manufacturer as the printer, that is, Epson. Whereas, compatible ink cartridges are produced by a third party manufacturer. We assure you that you will not have to compromise on quality with our compatible ink cartridges.
Q. Where can the Epson SX110 ideally be used?
A. Since the Epson Stylus SX110 offers printing, copying as well as scanning, it can be used in small offices or for home purposes. It is great for those who require high-quality outputs and are not heavy users.
Q. How long will it take for the cartridges to be delivered to me?
A. We usually deliver the products to our customers within 1-2 days, if they are ordered before 12 noon. If your order is urgent, you can reach out to us at 048 30833221.
Q. I have run out of coloured Epson SX110 ink cartridges. I have original black ink cartridges for the printer and I was wondering whether using original black ink cartridge and compatible colour ink cartridge together would harm my printer?
A. Absolutely not, your printer will work just fine. Our compatible ink cartridges are FSC tested and certified and will work as well as the original ink cartridges.